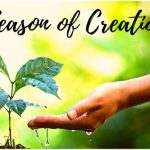 Recent Harvest Thanksgiving Masses, in our local churches, have been a source of deep inspiration. The colour, fragrance, coupled with creativity and gratitude, offered hope and consolation for many people who gathered to celebrate this joyful season of harvest gathering. This week an estimated 300,000 people will visit the national ploughing championship, the largest agricultural event in Europe proudly hosted in Ratheniska Co. Laois.
The national ploughing championships celebrates rural Ireland, putting its best foot forward, celebrating the rich tradition and sense of accomplishment that is achieved with hard work, resilience and pride. Pope Francis is keenly aware that every season especially this harvest one is a sacred gift, a gift that we are invited to be active caretakers in a volatile but incredibly beautiful environment.
The Season of Creation is marked throughout the Christian world from September 1st to October 4th (Feast of St. Francis of Assisi). Christians are called to celebrate the joy of creation, as well as to encourage awareness-raising initiatives to protect the natural environment. Local faith communities are called to promote respect and gratitude for the wonders of creation and to integrate environmental themes in our liturgies. After all, the Eucharist celebrates our communion not only with one another and with the Lord but also our communion with all of nature.
This year's theme is outlined on the international ecumenical website: "Let Justice and Peace Flow". The theme is inspired by the prophet Amos who cried out for justice. "Let justice roll on like a river, righteousness like a never-failing stream!" (Amos 5: 24). And so Christians throughout the world "are called to join the river of justice and peace, to take up climate and ecological justice, and to speak out with and for communities most impacted by climate injustice and the loss of biodiversity. As the people of God, we must work together on behalf of all Creation, as part of that mighty river of peace and justice."
Pope Francis emphasised the impact of climate injustice in his much acclaimed encyclical "Care for our Common Home".  Collaborating with leading scientists and ecological activists in the drafting of the document, he spells out the problems caused by climate change due to global warming. These include melting glaciers, rising sea levels, acidification of the ocean and extreme weather events, such as droughts and floods, rising temperatures, raging forest fires with resulting huge loss of life. Francis was particularly scathing of climate-change deniers and sceptics (they seem mostly to be concerned with masking the problem or concealing their symptoms). He unhesitatingly lays the blame on the model of development based on the intensive use of fossil fuels, which are at the heart of the worldwide energy system: in other words, human activity is the main cause of the problem. After the summer of 2023, it is no longer possible for people to deny climate change. Global warming is a reality and it is happening now. I believe it has finally seeped into our consciousness and can no longer be see as a theoretical     possibility that may impact our lives sometime in the distant future.
The wildfires in Greece, Canada, America and more recently in Hawaii were, according to scientist Cormac O'Raifeartaigh, "of unprecedented ferocity and frequency." There can be no disputing the cause of these blazing infernos, which wreaked havoc and caused so many deaths: climate change has created the conditions which precipitate such infernos.
For example, in relation to Hawaii, climatologists point out that climate change has exacerbated dry and hot conditions allowing wildfires to spread. As well as that, declining rainfall and rising temperatures have left the islands more susceptible to blazes. Record-breaking temperatures in southern Europe throughout the month of July also resulted in considerable loss of life. (Last summer alone there were over 61,000 heat-related deaths. The number will be considerably higher when statistics are published for this year). Thoughts and prayers for thousands of people who lost their lives as a result of flash flooding in Libya last week.
Scientists warn us that the extreme weather seen around the globe in 2023 will become the norm within a decade without dramatic action. This means severe weather episodes will multiply, sea levels will continue to rise, temperatures will soar and forest fires will continue to destroy towns and villages and claim more and more lives. Crop yields will decrease, forcing more and more people to migrate. Climate change will become more difficult to control and the associated costs will escalate. That is if we do nothing. I don't believe that is an option for us.
The only viable alternative is to reinforce policies, which aim to reduce carbon emissions until eventually we leave no                             carbon footprint. This will be costly and will demand sacrifice from everyone. Carbon taxes are not popular but industrial and agricultural sectors will have to accept them. Policymakers will also have to make alternative energy sources and means of transport financially viable. But to begin with, we need an 'ecological conversion', whereby, according to Pope Francis, "the effects of our encounter with Jesus Christ become evident in our relationship with the world around us." Celebrating the Season of Creation should inspire us to embrace an ecological spirituality wherein we realise that we are all connected to the web of life and "joined in a splendid universal communion".
Thank you, O Lord, your love is boundless
Thank you, O Lord, your love is boundless
Thank you, that I am full of you
Thank you, you make me feel so glad and thankful as I do
Thank you for all the grains of wheat
Thank you for all the bread we eat
Thank you for all the turf we gather
Thank you we will have plenty of heat
Thank you for all the ripe bananas
Thank you for orchards in the field
Thank you for all the new potatoes
Thank you for all the beans and peas
Thank you for all our gifts and talents
Thank you we share with those in need
Thank you I see your world has meaning
Thank you I know your spirit here
Thank you because you love all people, those both far and near.