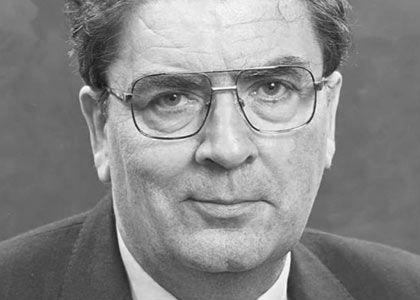 John Hume put his devotion to what was right above what was best for himself, his life's work was given its ultimate return in the Good Friday Agreement he signed 22 years ago. Hume had a multitude of qualities that allowed him be a singularly resolute peacemaker during The Troubles but his selflessness was surely the one that shines above all others.
That very same agreement that brought peace to the island arguably cost the party he founded electorally in the years since he stepped back from public life. This very nobility was clear even in his retirement and in 2010 he was named as Ireland's greatest person.
Hume was born in Derry in 1937 and like many of his generation his Catholic faith was at the core of his upbringing. He studied for the priesthood in Maynooth but ultimately returned to his native city to become a teacher after graduating with a degree in French and History.
His career began as an organiser. He founded the first Northern Irish Credit Union and became president of the Irish League of Credit Unions (ILCU) while in his twenties. Throughout the 1960s Hume became a central figure in the city's Civil Rights Movement as he and others sought fairness in franchise, jobs and housing. It was a fraught time in which the movement faced violence from the State and militants from various factions became increasingly active. Hume was literally at the front of tense marches that marked the period and can be seen in a documentary released last year facing paratroopers in the week before Bloody Sunday.
Hume was first elected as an independent nationalist candidate for the Foyle constituency in 1969 before founding the Social Democratic and Labour Party (SDLP) a couple of years later. As violence exploded in Northern Ireland throughout the 1970s, Hume remained committed to politics and was elected leader of the SDLP and to the European Parliament at the end of the decade.
He was elected as an MP in 1983, a position he held until 2005. As efforts intensified to find peace in Northern Ireland throughout the 1980s, Hume continued to denounce violence while also beginning dialogue with Gerry Adams, then the leader of Sinn Féin. The long-time moderate nationalist was criticised by politicians and commentators from both sides of the border for his engagement with Adams, but the Hume-Adams talks as they became known are now seen as a vital step in the peace process.
In the 1990s, Hume was the preeminent voice of nationalism in the north and he participated in various peace efforts that sought to find a resolution to the conflict. When the Provisional IRA called a ceasefire in 1994 and again in 1996, Sinn Féin were allowed to enter the talks process, as were loyalists who had also called a ceasefire. The ultimate result of these renewed efforts was the Good Friday Agreement, which was secured following a tortuous process at which Hume was at the centre. When the agreement was passed by a huge majority in the Republic of Ireland, it was opposed by Ian Paisley's DUP and was passed by a smaller majority in Northern Ireland's referendum. It was Hume who took perhaps the largest responsibility in selling the deal, famously appearing with the UUP's David Trimble on stage with U2′s Bono.
In 1998, he and Trimble were jointly awarded the Nobel Peace Prize for their efforts in securing peace in Ireland. Hume's retreat from public life was due to a struggle with dementia, something his wife of 58 years spoke about.
Upon his 80th birthday in 2017, Hume received praise from all around the globe. President Higgins said the "moral architect of an inclusive peace process", and "a man of courage, a committed European and dedicated and visionary peacemaker". Bill Clinton called him "the Irish conflict's Martin Luther King".
As well as the Noble Peace Prize, Hume was also awarded the Ghandi Peace Prize from the Indian Government and a Knighthood from Pope Benedict XVI.
But while Hume's legacy may appear to be rooted in the past, it is not a stretch to say that his ideals may well influence the future.
Lord Make me a channel of Your peace
Where there is hatred, let me bring Your love
Where there is injury, Your pardon Lord
And where there's doubt, true faith in You