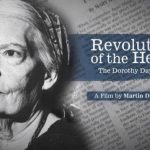 Recently, Cardinal Dolan of New York celebrated Mass in St. Patrick's Cathedral to mark the end of the diocesan phase of the cause for the canonisation of Dorothy Day. The box of documents containing the evidence to support her cause, collected over a 23 year process, which included interviews with those who knew her and a thorough scrutiny of her published work in books and articles was placed before the altar. It was bound by a red ribbon which was stamped with a hot wax seal to be forwarded to the Vatican congregation for Saint's Causes. Dorothy Day died in 1980 in New York.
Pope Francis, in an address to a joint session of Congress in Washington in 2015, named Dorothy Day, along with Abraham Lincoln, Martin Luther King Jnr. and Thomas Merton as examples of American citizens who embodied the best of American culture and history. Francis concluded his speech thus: "a nation can be considered great when it strives for justice and the cause of the oppressed as Dorothy Day did by her tireless work…" He said that Day's social activism, her passion for justice and for the cause of the oppressed were inspired by the Gospel, her faith and the example of the saints.
The story of her spiritual journey is utterly fascinating. It is captured beautifully in the latest documentary on her life entitled, "Revolution of the Heart: the Dorothy Day Story", which has just been released. It was produced by Martin Doblmeier. She was a radical atheist, committed to the ideal of socialism, dismissing as superstition the doctrines of the Christian faith. She suffered the heartache of failed love affairs, including a divorce and procuring an illegal abortion.
She hung out with radical socialists, communists and literary figures such as Eugene O'Neill in Greenwich Village in New York in the 1920s. Her reputation for alcohol consumption was legendary. Reputedly, she could hold her liquor "better than any gangster" at the time, drinking until dawn in famous bars such as "Hell Hole". But she was unsettled. One occasion, during an all-night session, she remembers Eugene of O'Neill reciting the famous poem by Francis Thompson, "the Hound of Heaven," which depicts God as a hound relentlessly pursuing the soul, offering peace and mercy, prompting reflection on her own destiny. Strangely, she often found herself slipping into Mass at 6am in St Joseph's Church on Sixth Avenue after a night's drinking.
After the birth of her child, Tamar, she faced a major crisis in her life. This was a decisive moment for her. She was overjoyed, and sensing almost immediately that the "incomprehensible emotions of motherhood must connect to a supernatural source." "No human creature could receive or contain so vast a flood of love and joy as I often have felt after the birth of my child," she claimed. "With this came the need to worship, to adore." No doubt the Christmas story of the birth of the Christ-child to Mary would have resonated in her soul. She decided to have her baby baptised, even though she herself had not yet converted to Catholicism. "I felt it was the greatest thing I could do for a child," she claimed, as it would ground the baby's life in purpose and meaning. But Dorothy felt that she too should be baptised and join the Church. "I felt Catholicism was something, rich, real and fascinating but I felt outside," she wrote in her memoir. Unfortunately for Day, her common-law husband, Foster Batterham, whom she deeply loved, was totally averse to institutional religion. Dorothy felt she had no option but to leave him if she were to be baptised into the Church. Separating from him broke her heart. In her memoir, "The Long Loneliness," she wrote of her love for him: "I loved him in every way, as a wife and as a mother… It was killing me the thought of leaving him."
She was baptised Catholic in December 1927. She wanted the practice of her faith to be expressed in practical ways. She had no time for the pious who prayed and attended service on Sunday but failed to respond to the social needs of their neighbour. One line in the Christmas story which reads "there was no room for them at the inn," offered a profound challenge to Dorothy throughout her life. She was co-founder of the Catholic Worker Movement, which according to many commentators became the most successful lay movement in the history of the modern Church. Houses of hospitality were established to take care of the poor and homeless, or anyone stricken by illness or the trials of modern life. Nobody was turned away.
The Christmas story which grounds the fundamental doctrine of the Christian faith, The Incarnation, the Divine embracing our humanity and our history, was the fundamental principle which inspired Dorothy throughout her life. She believed that Christ appeared in every human situation, but especially in the faces of the poor… "that they are Jesus, and what you do for them you do for him. It is the only way of knowing and believing in our love." Jesus identified with the least, and so, for Day, Christ appeared in every poor person who came to share a meal at a house of hospitality. She lived with the poor and the destitute in the House of Hospitality in Manhattan in New York, embracing a life of poverty. Dorothy Day is a saint for our time and a great inspiration for us all. Every saint has a past and every sinner has a future.