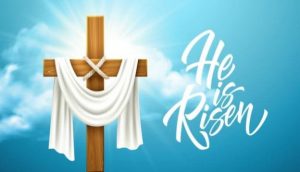 It has been a tough year since last Easter, and many people, Christians and others, have found ways of making the best of a bad job by helping one another in ways that we haven't been used to doing before. We've also found ways to show our    appreciation and admiration for people who we don't usually think about. They aren't sports people, or billionaires or even politicians.  They are nurses and delivery drivers and people toiling in cavernous warehouses and food factories for very low wages. People who serve the fundamental needs of God's world. And, in its own way their hidden service is a shadow of the resurrection life; the life of Heaven, God's place. Our sure and certain Hope
Easter Sunday changed everything. On Sunday, Jesus cheated death, so that Friday's apparent failure was now properly seen as a triumph. Jesus, now alive, became a beacon of hope for sinful people everywhere – death was no longer the inevitable sentence they had to bear. His fleeing followers, having seen him risen with their own eyes, stopped running and instead set out to change the world – not deluded at all, but enthralled by a future with Jesus as their Lord
This is our second Easter in the grip of the pandemic. The vaccines give us some Hope that soon it might end. Our ultimate Hope is not through an injection in our arms, but through the extraordinary act of love through which Jesus said, "Father, forgive them…"
The resurrection is deeply mysterious and we can't quite experience its original impact in the hearts of his followers. This gospel, this great news, spans the  centuries and is still a living force for here and now. In a sense, you and I are reflected in elements of that story, and may place ourselves within the account given by Saint John. Am I like Magdalene, announcing the news of resurrection? Or like the apostles who respond immediately by running off to the tomb to see for themselves
On Easter morning, the stone was rolled back from the mouth of the tomb. Is my heart like a tomb awaiting resurrection? Can I identify any "gravestone" that is holding me back from a fuller, freer life?
It could be an addiction, a compulsion or some dark secret I have never shared with anyone. We can be sickened by our secrets.
But as pope Francis said, we are meant to be
"people of joyful hope, not doomsday prophets!"
If we too discover the risen Jesus, we can all
find hope and joy, and go out to share them
with others.
May this new Spring and Easter season, bring a bright and colourful blessing, to our lives. All will be well.
Edna Dean Proctor, in this poem, "Easter Bells" sums up beautifully our Easter Hope,
"I think of the garden after the rain;
And hope to my heart comes singing,
At morn the cherry-blooms will be white,
And the Easter bells be ringing!"
Love Overcame
Love overcame
Emerging from a cold tomb
All the truth, majesty and creativity of a living God
Transforming a broken heart
Making a quiet return, in a still and sorrowful garden
The grave stone rolled away, to release redemptive love
Jesus resurrected and restored
Comforts a weeping woman
Speaks with travellers on a journey
Meets with his faithful friends
And they bow down before Christ alive
And acknowledged that the saviour has arrived
That the word of God has come alive
And that the extraordinary transformation of Heaven and earth is complete.