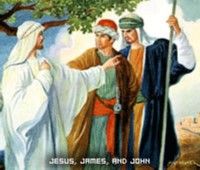 How do we equate success? Is success a career in management  perhaps or a titled role? Do we see success as rising to the top of our chosen field and earning recognition fame and respect with a healthy wage packet thrown in for good measure?
Today we find James and John not behaving as good disciples ought. They ask Jesus for places of honour in heaven's seating arrangements.
James and John were amongst Jesus' closest friends so perhaps they could have been forgiven for getting their wires crossed. Their ministry was important. More than important, their role was key to changing history. But somewhere along the line, the importance of their mission and 'self importance' had blurred and James and John were left with a desire for acclaim and prestige. Jesus points out if we find ourselves in positions of importance we have to work for the common good. If we find ourselves with influence we need to set a good example and to motivate others. If we are entrusted with leadership, we need to lead by rolling up our sleeves and serving others. The world needs do-ers not theorists.
Today's challenge is to serve with no expectation of  return; to give with no expectation of reward. The challenge is to become the person God wants us to be, not  necessarily the person we want to be.