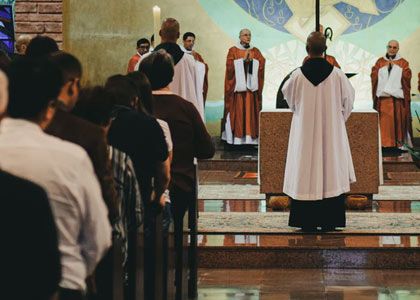 The global pandemic, has had a shattering effect on humanity. This deadly virus, has made no exceptions, its ugly presence has wounded Princes, Prime Ministers, celebrities, parents, grandparents, siblings, husbands, wives, colleagues and especially the most vulnerable in our society, the elderly and those whose health was already compromised. Living in a time of pandemic, has been difficult, lockdown and necessary restrictions meant that the ordinary things we once took for granted now are precious moments filled with gratitude as we return to a "New Normal". As Church and members of Christ's Body, we have felt the pain of a physical disconnection from our place of Worship but we too have discovered resilience, consolation and hope in the presence of Jesus, whose intimate affection for us thankfully does not require any social distance. Christ's presence, has been felt by the heroic staff in our health service, Gardai, retail workers, postal service to name but a few of the many agencies who personified Christ, whose empathy in the Gospel tells "of Course I want to heal you".
Since the start of Lockdown, I have celebrated 25 funerals. I pray for all families whose bereavement was so difficult because of the restrictions in place as a result of Covid-19. May they rest in peace.
It has been so difficult not to be able to celebrate Mass publically. Whist engagement with the online was a vehicle to communicate, nothing can compare to the personal encounter, that we now can return to after almost four months. The research team at the Mater Dei Centre for Catholic Education, at Dublin City University has been engaged in a research project regarding adult faith, which includes how adults coped whilst in lockdown. It showed a significant increase in engagement with the online world, seeking a forum to be nourished by faith. However it also highlighted that the vast majority intend once public Mass returns to disengage from the webcam and return to the personal encounter of community in their local church.
Community is key to our local gathering. In our pathway ahead as Church we seriously need to reflect how present and relevant we are in the lives of our people. If not we will quickly return to the familiar routine where in many parishes there was a clear disconnect between Church and the local community.
As we return to celebrating public Mass, we need to do this sensibly and safely. I cannot police our local church, nor do I want to and I trust in all our faith communities, we will hold fast to our individual and collective responsibility, to ensure health and safety, is thoroughly upheld. In a time of pandemic, the experience of worship will be different. Pope Francis, has named that those who are vulnerable and need to protect their health should not in any way feel obliged to attend.
Social Distancing is fundamental to keeping us all safe. Our pews will be clearly marked to allow for this. Hand sanitising will be provided at all entrances. Pews will be sanitised after Masses. Any day you gather for Mass is sufficient for your traditional Sunday obligation. This is really important to allow as many as possible to return to Mass. Many liturgies continue to be available on the parish webcams.
I am also conscious of the kindness expressed to us priests during this time of lockdown. Surely this is a huge wake up call that the majority of clergy in every diocese had to cocoon. Elderly men, deemed vulnerable by public health officials, now expected to roll up their sleeves and get back to maintaining essential services.
It is this maintenance model of church that unfortunately makes lockdown the dress rehearsal for a sizable proportion of parishes in all our Diocese. Whilst Church leaders, have given great detail regarding health and safety measures for reopening Churches, little if any honest discernment has been shared on this obvious reality. How can we breathe life and energy into parishes no longer served by clergy? How can we support Christian leadership in a real way so that lockdown is not a permanent reality?
Crisis and pandemic, despite heavy burden, can also offer opportunity and hope. In our pathway to recovery, we must be honest and real, especially as clergy in our responsible role, to facilitate real action, that will halt the mechanical maintenance of services and perhaps begin renewal and new life to our faith communities.
I take comfort in the simple and profound promise "Where two or three are gathered in my name, I am with you".